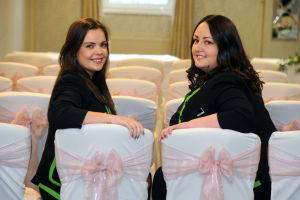 Here at Ribby Hall you have an expert wedding team on hand who absolutely love weddings and can't wait to help you create the most wonderful day.
Our wedding co-ordinators have gained years of experience between them and always go the extra mile to ensure that you have the best day.
Find out more about their dream wedding and how they stay calm under pressure.
Nat
How many weddings have you planned?
By the end of 2019, I'll have been lucky enough to have planned weddings for 125 wonderful couples
Since when have you been part of the Ribby Hall Team?
I originally joined the Village in The Restaurant whilst studying at university. After graduating, I made the jump and joined the Business and Banqueting team as a Conference Coordinator before making the switch to Wedding Coordinator which I've done for over 3 years. All in all, I've worked at Ribby Hall Village for over 6 years.
What's your secret for staying calm under pressure/what do you to do to relax?
Having such a fantastic team around is the biggest support in stressful moments although we run such a smooth operation, they are few and far between! An evening spent with my cats (Ted & Grey Friend for those curious!) and a good book (or box set binge) is my idea of heaven
What's your favourite part of a wedding?
There's too many to choose! I love the excitement before the ceremony as family and friends who perhaps haven't seen each other in a while come together and catch up – I love that a wedding can bring people together and that we will play a small part in making lots of new memories!
What do you enjoy most about your job?
That no two days are the same and there's always something new and exciting to get my teeth into! I can go from meeting new, enthusiastic couples beginning their wedding journey to finalising those last-minute details with those who are in a whirlwind of nerves and excitement just a few weeks away from tying the knot! My role is so diverse that I can spend a day in the office answering questions, replying to emails and ordering those all-important finishing touches and the next be cueing music for a wedding ceremony and perfectly placing name cards to ensure a flawless wedding breakfast.
What would your dream wedding look like?
An intimate ceremony at dusk whilst on safari in South Africa surrounded by my closest family & friends with all manner of African wildlife watching on – to be honest, I may be getting my vision confused with the Lion King!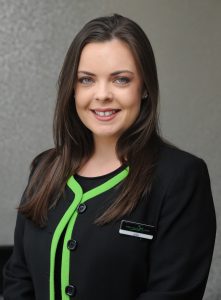 Julia
How many weddings have you planned?
Since being on the Weddings Team at Ribby Hall Village, I have planned 52 weddings to date which have included a mixture of Civil, Church, Multicultural and Evening Reception Weddings!
Since when have you been part of the Ribby Hall Team?
I have been a Wedding Coordinator for over 3 years, however I joined the Ribby Team in February 2018, although I feel like I have been here for longer as everyone is so friendly and welcoming!
What's your secret for staying calm under pressure/what do you to do to relax?
Here at Ribby, we have such an amazing team who all help contribute to a couple's wedding day in their own way from the cleaners who are here early at 6am who ensure the rooms are immaculate, to the kitchen team who make preparations for the delicious food along with the admin and operation team who plan and deliver the day itself. Together we all take a little bit of pressure away from each other! Someone once told me when feeling under pressure to "Be like the swan, glide gracefully on the surface but paddle furiously underneath".
At lunch time, I love to get out walking around the village and get my steps in, there are so many areas to explore on the village and it's a nice relaxing break away from my desk.
What's your favourite part of a wedding?
I love all aspects of a wedding day from the buzz of it being a couple's big day and the atmosphere of all their family and friends arriving, all dressed to impress. To seeing the Grooms expression when he turns to greet his Bride when she walks up the aisle (that's a bit of a tear-jerker for me). If, however I had to say what my one favourite part is, it would be going to pick the Bride up in the Rolls Royce from the Spa Hotel and seeing them in their beautiful dress! Not many people can say they ride in Rolls Royce every weekend either!
What do you enjoy most about your job?
I love the diversity that the role gives me, it's a balance of operational and admin work which is great as I love getting in the thick of it on the wedding days from coordinating the ceremony's and assisting with the set ups to meeting couples to and showcasing our amazing venue, it is such a pleasure to work with couples from the start when they enquire with us right up to their wedding day where we ascertain their precise wedding requirements that were put together at those all-important 3 month and final meetings.
What would your dream wedding look like?
Not that I have secretly planned it …but what sort of wedding coordinator would I be if I didn't have some idea on the plans for my own wedding?
In terms of seasons my favourite time of year is Autumn/Winter, so I think it would only be right that I got married at that time of year. I love candles and fairy lights so they would be a must, and the idea of having a celebrant performing a ceremony as it gives it such a personal touch. Pinterest is great for inspiration and it has planted the seed for a ski resort style wedding reception, maybe in a Marquee with a fire pit outside with sheepskin rugs and a 'Après Ski Bar' serving Prosecco and Mulled Wine!
Our wedding coordinators are happy to discuss your individual plans and ideas with you – nothing is too much trouble so don't hesitate to contact us .