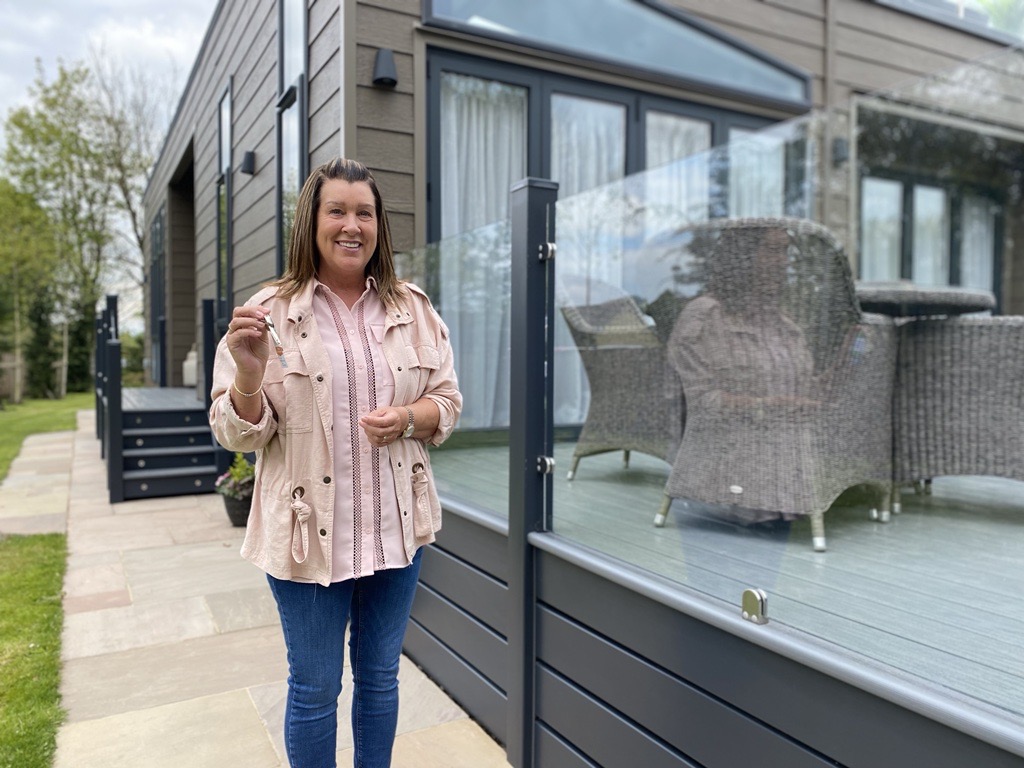 We recently shared the progress being made at Reeds Bay – the exciting new location for holiday homes at Ribby Hall Village.
Lisa Dixon and her husband Carl recently got the keys to their lodge on Reeds Bay! Once they'd settled in, we caught up with Lisa to hear about their move.
Why did you choose to become an owner at Ribby? 
Carl and I actually bought another holiday home on site last year but we were so impressed by Reeds Bay we just knew we had to upgrade! It's been such a stress free and smooth move thanks to the wonderful sales and maintenance teams.
We think it's the perfect environment; there's something for everyone and it's in an ideal location. The staff, security team and sales team are all very professional and make the site a very welcoming place. There's such a variety of activities within a safe community and that's what's really important to us with having family and grandchildren come and stay.
What made you choose this lodge in particular?
We love the stunning design of the Nordica lodge. It has an outstanding homely feel with lots of space, an open plan living/kitchen area and a very modern look to it. Have you seen the roof terrace?

What are you looking forward to now you're here?
Spending a lot of time relaxing at our lodge! Reeds Bay is a beautiful part of the site and so peaceful. I love spending time in our garden and down by the lake. We are the also looking forward to creating lots of happy memories with family and friends here.
How does it feel to be part this new development?
We've always felt very proud to be owners at Ribby and it's wonderful to be part of the new development at Reeds Bay. We are looking forward to seeing the site progress, both at Reeds Bay and across Ribby Hall. There's always something new!
What made you consider owning a holiday home in this area? 
We love the area! There's so much to do on family days out, whether it be going to the beaches, shopping, fun fairs or visiting the restaurants and bars nearby in Lytham.