Guest Blog Post By: Charlotte Gili-Ross, Brand & Communications Manager
It's no coincidence that on my penultimate working day of 2016 I find myself blogging about my own personal experience at The SPA Hotel – this time as a guest, and soon to be mum – or as some would say on the other side…
I'm proud to say that I'm Ribby's Brand & Communications Manager I originally joined the company almost 15 years ago – then setting up and heading up the company's PR & Marketing function and team.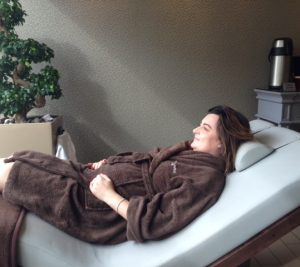 One of the many things I love about working for Ribby is having the chance to share all the wonderful things to see and do here, and as my impending maternity leave started to fast approach my mum offered to treat myself and my sister–in-law Rachel (who's due date is coincidently just three weeks apart from mine!) to our first pregnancy treatment at The SPA Hotel – and we both jumped (well almost) at the chance.
And what a treat it was!  Our therapists Olivia and Suzannah were both brilliant and I don't mind admitting that my experience was THE best massage I'd ever had, and I'm very fortunate to have enjoyed quite a few massages and treatments previously and worldwide.  My therapist Olivia Simmons was quick to point out that I probably felt that way because I was so in need of a treatment, however I did swiftly correct Olivia on the fact that it really was THE BEST massage and treatment I'd ever had.
From the moment we arrived at The SPA we received such a warm welcome from the receptionists.  Check in and consultations were very slick and informative.
Dimed lighting and NEOM fragrances set the mood of the treatment room perfectly, oh and a heated bed for those pregnancy aches and pains was just idyllic.  For someone who's already suffering from lack of sleep due to back and hip ache I must admit I wasn't relishing the idea of having to lie down for 60 minutes.  Within what seemed like seconds Olivia got me more comfortable than I've felt for months and from that moment on I didn't give it another thought. I have subsequently however set up my own bed with the same arrangement of pillows and towels hoping for a better night's sleep…
The NEOM treatment started with some guided meditation as Olivia commenced with reflexology, again I had concerns about my far from perfectly painted toes (I'm at that stage where it's difficult to reach my toes), alongside the fact that I've terribly ticklish feet but again Olivia's magic touch dissipated any fears or giggles within seconds.
I'd opted for the 60 minute NEOM pregnancy Massage – which cocooned my body and mind with a blend of 100% natural NEOM essential oils.  Following the guided meditation and reflexology was a thorough back exfoliation, using a blend of wild mint and mandarin which not only lifts your mood, it also eases any sign of pregnancy nausea!… Followed by a mother-to-be massage and scalp massage.  Areas of my body that were holding tension were soon eased and the deepest state of relaxation was genuinely achieved.
Afterwards Rachel and I took some time out in the countryside relaxation room – sipping cooled refreshments; taking in the countryside views and flicking through the many women's glossies available.  The perfect way to spend a morning.  If only I'd tried it sooner!