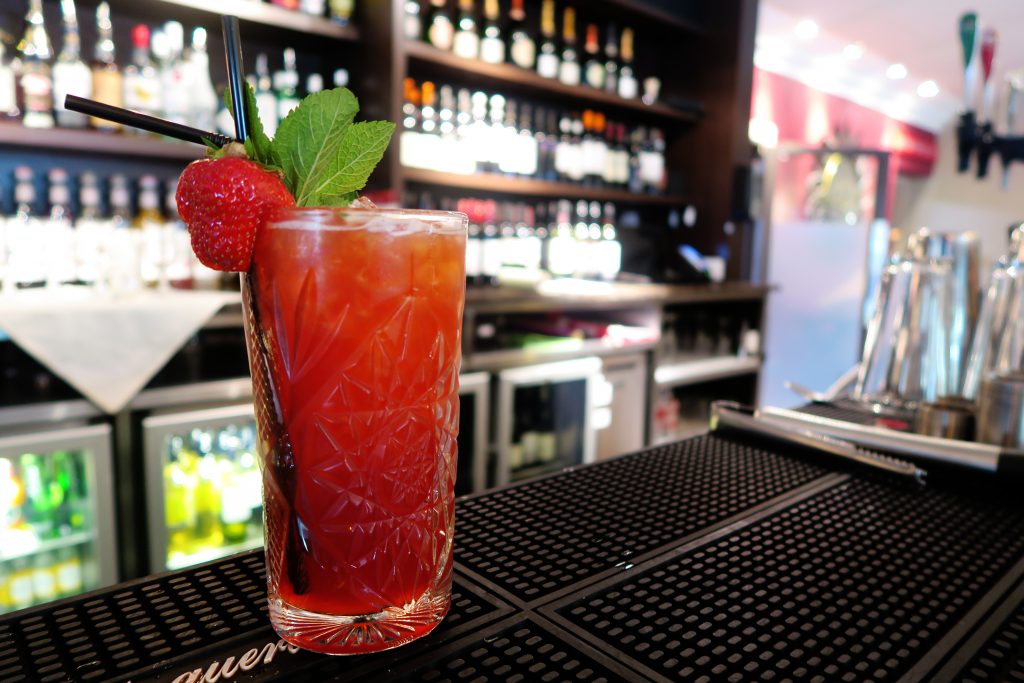 It's a big sporting summer and with the attention now on Wimbledon, The Restaurant have devised two refreshing treats for you to try at home; Strawberry Debonaire and Strawberry Eton Mess.
Strawberry Debonaire by Adam Robinson
Place 4 hulled strawberries in bottom of the glass
Muddle these to a pulp using a muddler. You may have to stir through a fine mesh strainer from pulp build up.
Add the following: 40ml Strawberry Pimms, 20ml sloe gin, 10ml strawberry syrup, 20ml freshly squeezed lemon juice, 75ml cranberry juice
Add ice
Shake for roughly 8-10 seconds
Pour over freshly iced glass
Double strain to achieve a clean drink
Add slices of lemon, orange and strawberry and stir into drink
Top with prosecco or sparkling wine
Top with crushed ice
Garnish with strawberries and mint sprig
---

Pimms

The quintessential English summer drink began popularity in the early 19th century with the Pimms No1 Cup, of which was favourable because of its 'health tonic' attributes containing a secret blend of spices and quinine.

---
Simon Ball's Strawberry Eton Mess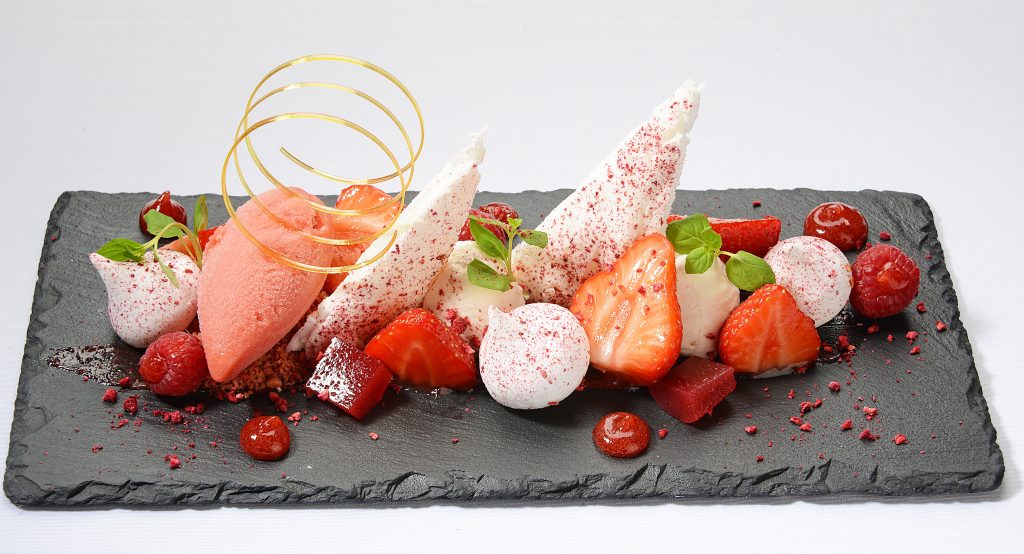 Pavlova Meringue
Egg whites 100g
Caster sugar 200g
Cornflour 10g
Pre heat oven to 100 degrees
Whisk egg whites to full volume for approximately 5 minutes
Slowly add 150g of the caster sugar until it looks glossy, then mix remaining with the cornflour and whisk in briefly on a slow speed
Pipe out onto silicone paper in small 50 pens piece size domes, sprinkle with freeze dried raspberries
Bake for approximately 30 minutes or until you can gently lift the meringue off the baking tray
Strawberry & Lime Sorbet
Strawberry puree 400g
Stock syrup 200g (equal quantities sugar and syrup)
Black pepper (pinch)
Limes – 2 juices
Mix all ingredients together and churn in an ice cream machine
Mascarpone & Vanilla Cream
Mascarpone cheese 150g
Vanilla pod – split and scraped
Icing sugar 30g
Gelatine leaf 1 soaked in cold water
Lime – 1 juiced
Gently melt gelatine leaf with lime juice
Add all remaining ingredients together and whisk thoroughly. Store in fridge to set.
Strawberry Sauce
Strawberry puree 300g
Caster sugar 100g
Pectin 2g
Bring puree and sugar to the boil
Add pectin and boil for one minute. Strain and cool
Strawberry & Lime Jelly
Strawberry puree 100g
Stock syrup 100g
Gelatine leaf 1 soaked in cold water
Lime 1 juiced
Gently melt gelatine with stock syrup, then gently mix all ingredients together and stir gently to remove air bubbles
Set in fridge in a small shallow dish
Once set cut into cubes
Strawberry Foam
Strawberry puree 100g
Hyfoamer 1g
Xanthan gum 0.2g
Whisk all ingredients together for 5 minutes until a light foam is achieved
To Serve
Swipe strawberry sauce onto the plate / slate and arrange the meringues evenly. Pipe mascarpone cream between the meringues and toss some fresh strawberries on top. Decorate the plate with the jelly, strawberry foam and a scoop of sorbet. Garnish with micro basil leaves and freeze dried strawberries.
Enjoy! 
Let us know if you have made these and enjoyed them as much as we did by commenting below.