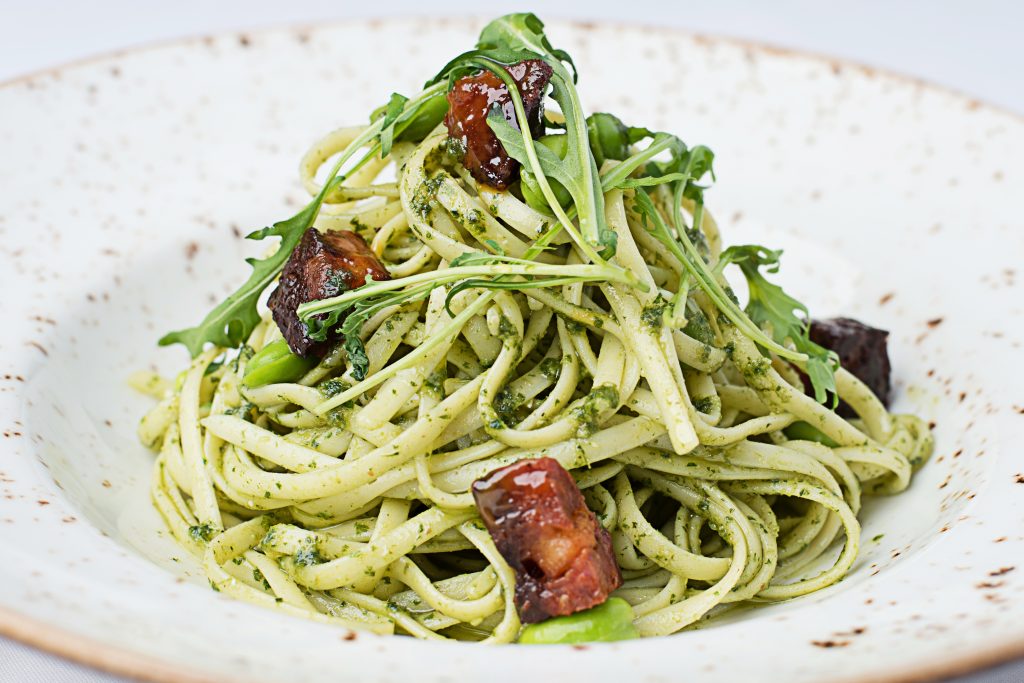 The second in our series of Blog posts by our Sous Chef  Lee Connor. Lee is part of Ribby Hall Village's Business & Banqueting team and caters for many weddings, conferences and events as well as being a Wellness Ambassador for the company.
Lee has worked as a sous chef for more than three and a half years under the leadership of Head Chef Chris Parsons.  With over 17 years' experience Lee has a passion for alternative healthy menus and over the next few months Lee will be sharing some delicious healthy recipes here on the 100 Acres Blog.
See his previous blog post 'Seasonal Berries Recipe' here.
Basil Pesto Linguine with Broad Beans and Chorizo
Serves 4
200g Linguine
2 large handfuls of shelled broad beans
200g chorizo, 1cm cubes
Parmesan shavings
Handful of wild rocket
For the pesto:
50g/2oz basil
30g/1oz pine nuts, toasted
30g/1oz parmesan, or similar vegetarian hard cheese, freshly grated
1 clove garlic, crushed
85ml/3fl oz olive oil
Salt and freshly ground black pepper
Method
To make the pesto put the basil, parmesan, garlic and pine nuts into a food processor and season well.  Whizz together and with the motor still running, pour the oil in until the pesto thickens.  Adjust the seasoning with salt and pepper.
Preheat oven to 180oc.  Place the chorizo on a non stick baking tray and cook for about 15 mins or until it starts to colour and crisp on the outside.
Put a pan of lightly salted water on the stove and drizzle in a little olive oil to prevent the pasta from sticking whilst cooking.  When the water begins to boil add the linguine and simmer for about 8 minutes or until al dente.  Drain the pasta in a colander.
Put the pasta back into the pan along with the pesto, broad beans and chorizo.  Stir in the pan for a couple of minutes to warm through.  Serve in a bowl with fresh parmesan shavings and wild rocket.  Drizzle over some extra virgin olive oil and freshly milled black pepper.
Next post: Honey, Garlic and Chilli Chicken