Guest Blog Post By: Stuart Robinson , Team GB Athlete & Health Club Member
Injury frustrations
My running this year has been very frustrating on the injury front! After having my best year of running last year with PB's, running for England and then representing Great Britain in the World 50k Championships I was hoping to push on this year and keep improving.
The signs in training and my performance at the Northern cross-country championships were indicating I was getting back into top shape ready for a busy racing schedule in March and April. One week after the Northern championships at the end of a track session of 20 x 400m I pulled my hamstring on the last rep.
Early advice from the physio was that training and easy running would be fine but after running through pain for a week my body just wouldn't allow me to carry on.  After several more visits to Athlete Matters the issue was looking like a high hamstring tendon injury.  I just couldn't run without pain.
Cross Training
Luckily with Ribby Hall Village's support I have access to great facilities to aid recovery, keep my fitness up with cross training and get my rehab exercises done.  The facilities at The Health Club have speeded up my recovery and allowed me to maintain the high level of fitness required for athletics at an elite level.
I have been throwing myself fully into the cross training with a mixture of activities. I have been doing the express circuits class, cycling stages classes, weights, the core class and using the cross trainer. I measure my heart rate in all my running and have had testing in the past to determine my training zones.  So while I have been cross training I have been measuring my heart rate so I know I am keeping my fitness at a good level.  When I am back running I hopefully just need to find my running legs!
I find the Stages Cycling (especially Jo's class) is the best to get my heart rate in the the high zones, equivalent to a track rep session. They really are fun and there is a competitive edge.  Last Saturday was fantastic, every bike was booked and the class was full.  If you're after a great work out and you want to get your heart rate higher then you would on your own in the gym I'd highly recommend them.
Let's Move!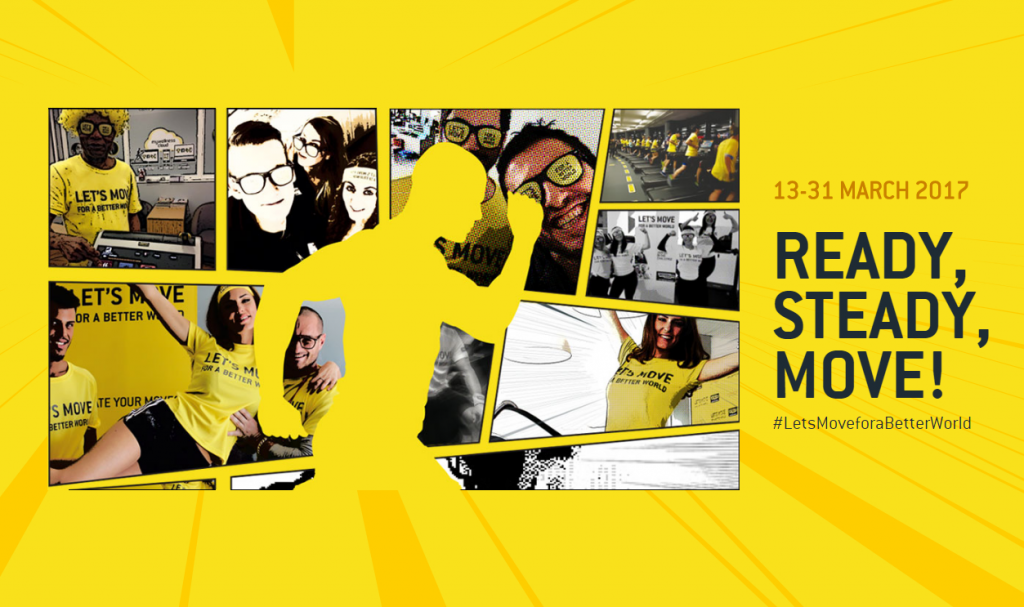 Also this week the Technogym 'Let's Move for a Better World' campaign started at the gym. Information about the campaign can be found here.
I have registered an account and have been logging some Moves. I did 90 mins last week on the cross trainer which gained me 2600 moves. It gets quite addictive and competitive trying to get more Moves each time! Hopefully over the next few weeks I can add some moves and help the gym achieve the goal of 3 million Moves. So make sure you log into the MyWellness app, join the challenge and log your Moves each time you're in the gym.
I have hopefully turned the corner now with my injury and have been running pain free for the last four days. I will keep my running topped up with the cross training while I get back up to my normal volume of 80-100 miles per week with a couple of quality sessions in there. Race wise this might change but I'm not thinking to far ahead at the moment; I want to just get back running pain free. It's nice to be back running in the lanes locally in the area, I have really missed running!
If you see me logging some Moves in the gym or out on the roads around Wrea Green then come over say hello, any questions etc about running I'd be more than happy to answer. I love talking about anything running!
Until next time!
Stuart Robinson
The Health Club at Ribby Hall Village offers a wide range of membership packages to suit individuals, couples and families. Call the Membership Team on 01772 682 000 or visit our website.